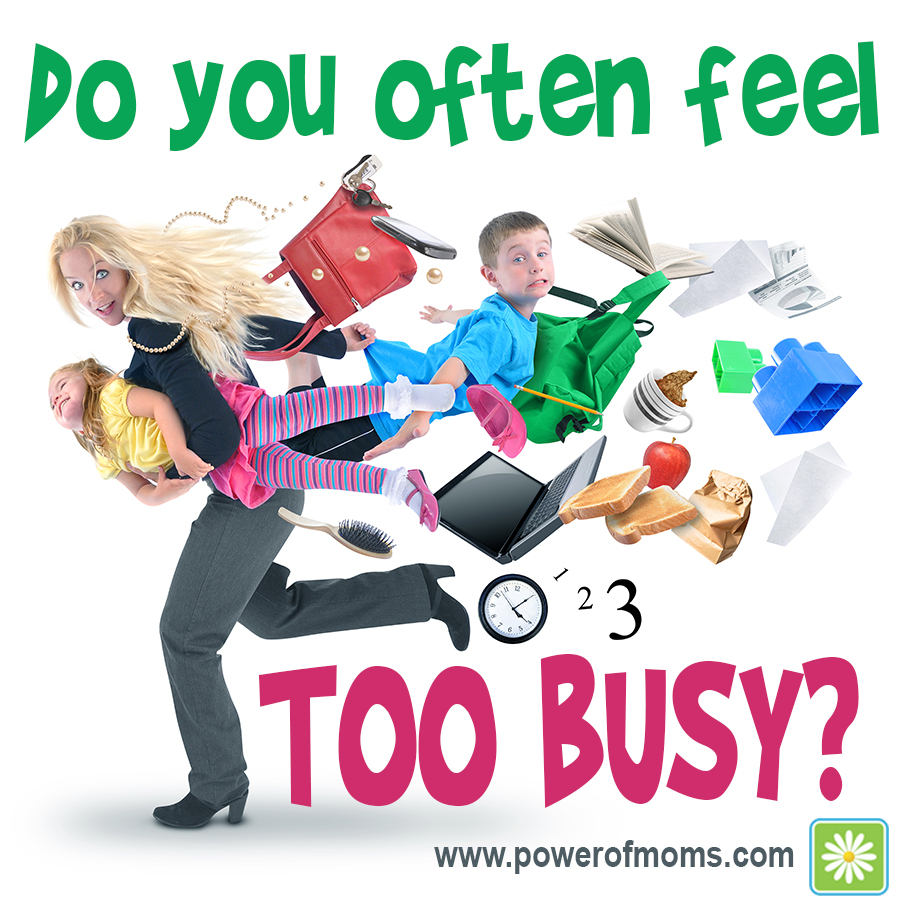 That seems to be the response I hear most often from everyone when I ask, "How are you doing?"
"Oh, we are so busy."
"I have so much going on."
"We are doing well, but we are super busy."
"We are busy, busy, busy."
Why are we so busy? Why must we say that we are so busy? Whose choice is it to be so busy? What good does it do?
Is it really that great that we can rush from school and work and soccer practice to piano practice to the drive-through again for dinner to homework to collapse into bed and do the same thing the next day?
I used to be like that. I have four small kids (ages 10, 8, 6, and 3). I have a husband who travels quite a bit. We were involved in activities—rushing, rushing, rushing. And getting what results? Cranky overscheduled kids, unhealthy meals eaten in the car, no family dinners, no family time, all resulting in a frustrated, impatient mother and frazzled kids.
I finally had enough. Why was I trying to keep up with everyone else? Does a 7-year-old need to be on a travelling baseball team that does not allow us to eat together at night as a family? Does a 9-year-old need to do Cub Scouts, chess club, football, and travel soccer? Does a 4-year-old need to take tennis lessons? Spanish lessons? My answer: absolutely not.
So I started to slow down. I had talks with the kids and implemented some changes in our family. I began to appreciate the ordinary days and the moments that I would otherwise miss because we were rush, rush, rush, go, go, go, do, do, do.
The results? A calmer mom, a calmer dad, and calmer kids. Yes, initially, it was hard because the kids were not used to so much unstructured downtime, but now I don't think we would have it any other way.
On my journey of slowing down, I incorporated several strategies in our family. Some were easy choices and some were hard choices for us. Here are three things we have done to be less busy.
First, I let the kids do one activity per season. One. Yes, this was hard. My daughter loves art and tumbling, but she chose tumbling. The boys play one sport and stopped piano.  I also scheduled their activities on Tuesday and Thursday. On those two days, I plan ahead with slow cooker meals or easy meals knowing that we are going to practices. Monday, Wednesday and Friday, we have no after-school activities. Those are my kids' favorite days. They come home giddy and say, "Mom, do we have anything today?" "Nope!" I say. "YES!" they say. "Can we play outside, have a friend over?" Yes to all. No plans.
I find that our whole demeanor is calmer on those days. I have time to prepare a decent meal, the kids are not rushed doing homework, and they have time for unstructured play. I find that I have more time to sit with them, look them in the eyes, and be there for them. If something comes up, we can say yes because we don't have to rush somewhere.
Second, I cut down on my volunteering and saying "yes" to too many things outside of my family. Moms are already pulled in so many directions. I found that if I didn't feel a "Heck, yes!" when asked to do something, then the answer for me should be a no. Plain and simple.
No, I cannot chair the Spring Fling.
No, I cannot make thirty ladybug cupcakes for the class.
Yes, I can go to career day because I would love to do that.
No, I cannot teach Sunday School.
Yes, I can take a pilates class for myself.
Yes, I will read a story to the preschool class.
At first it was really hard. I thought people would be angry at me because they were used to me being that mom who did (tried to, anyway) it all. But saying "no" to other things has been a "yes" for my family and my health. I have freed up more time to do what I enjoy.
Third, I scrutinized all of the outside influences that were crowding my life. Facebook, emails, texts, mommy blogs, cooking blogs, reality TV, etc. For one week, I wrote down how much time I spent on those things. It was astounding how many hours I wasted on these time-suckers. It was time for a change.  t check my email every 15 minutes anymore, instead checking it at scheduled times during the day. I turned off the ringer on my phone. Consequently, I am not stopping every five minutes to answer a text or to see who called. I focus on my kids. I am less distracted and less busy.
I stopped talking on the phone in the car.  This has been really eye-opening for me. I can listen to the kids and have good conversations with them that I would have otherwise missed because I was busy talking, planning, and scheduling on the phone.
Don't get me wrong—we're not perfect at this. Even with our efforts there have still been moments, seasons even, when I have had too much on my plate and have done too much. Who suffered? My family. They got a frazzled, frustrated mom saying, "Hurry up!" "Why did you leave that mess there?" "No you can't do that," "Just go to bed!" and "ARGGHH!"
On those days I went to bed and realized I had been too busy. Too busy to notice the little things. And aren't the little things the most important things?
I got a Christmas card last year that really struck me. The parents explained that the card was late because the family was so busy. They reported on the card that they go somewhere every night of the week—baseball and wrestling for one child, running and drama for another child, work, travel, etc. I was exhausted reading it. I related to this family because I had once been there myself. I felt bad for the frazzled parents, and I felt bad for the kids. Do they have any downtime to just be and play?
As I thought about our life recently, I felt grateful for the changes we've made. Because we are not rushing and busy, I have had time to bake cookies with our daughter, play trains, shoot hoops, read a book, have a family movie night, and make a good snack for after-school.  While these may not be Christmas-letter-worthy in this frantic, fast-paced world, they make a world of difference to me and my family.
QUESTION: Do you often feel too busy? Do your family's activities primarily cause stress or enrichment?
CHALLENGE: Think of one thing you could eliminate or change to make more time for the things that matter most to your family.
Editors: Amanda Lewis and Rachel Nielson