Note from April: Today's post by my daughter Alia was created on behalf of Mentors International–an incredible micro-lending organization that Eric and I have been supporting over the past couple of years and where Alia has been interning these past few months. We hope that you are strengthened by the lessons about deliberate motherhood that Alia has learned, and if you'd like to learn more about this fantastic non-profit, click the link at the end of the post. Thanks so much!
"Deliberate Motherhood" is something I've been hearing about for the past ten years as my mom has been running Power of Moms. Today I am excited to share a few powerful lessons I've learned about the attributes that deliberate mothers share worldwide.

As my mom mentioned in her introductory note, I've been interning with Mentors International during my first year of college. It's an organization focused on ending poverty through mentoring, training, and small loans. They have been working for almost 30 years in seven countries around the world, including Ghana, the Philippines, and Peru. (We hope to get to visit some of these locations someday!)

A few weeks ago, my mom and I had the chance to interview Loke Sargent, a mother of two daughters and Mentors International volunteer, about her experiences working alongside mothers and entrepreneurs with the Mentors International office in Ghana. These women received training to start and improve their businesses in order to provide better lives and opportunities for themselves and their children. While the circumstances of these women and children may be quite different from ours, their resilience, determination, courage, and ability to move forward in the face of adversity really stands out to me because I see so many mothers with these same characteristics in my community.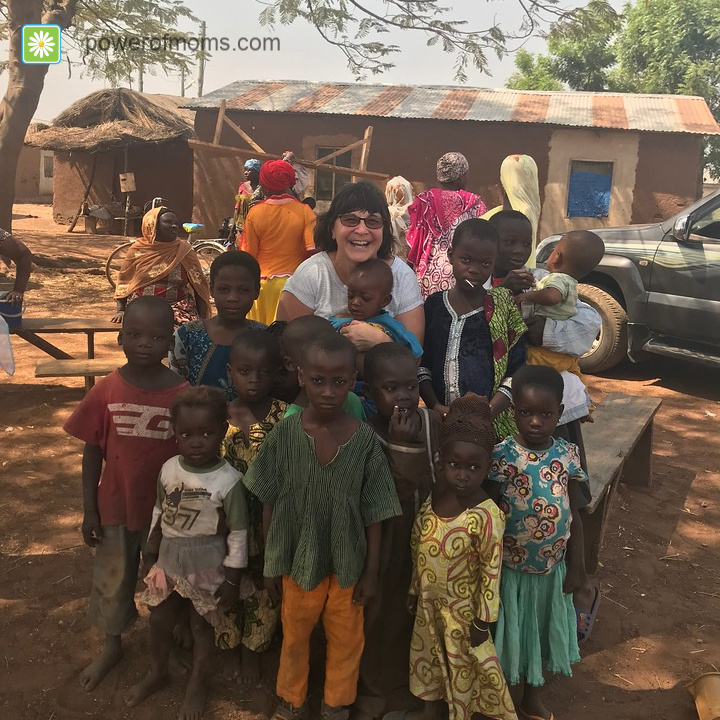 The stories and experiences Loke shared with us (which I have outlined below!) can help us no matter what our lives look like. I hope these are helpful to you today as you continue your work as deliberate mothers.

1. Deliberate Mothers Establish a "Center" or "Tribe" for Support and Collaboration
A "center" (as it's called within the Mentors International community) is a group of five or more women that really understand the value they can bring to one another. The women that Loke worked with in Ghana gather together under a big tree, sit on chairs or logs, receive training together, discuss business skills, and take responsibility for one another. If one woman is struggling in her business or missing group meetings, the other members of the center go out to find her and help her get back on track. If someone is struggling to pay their loan back (typically between $20-$100 USD), the others will ensure that steps are taken to move forward and move past the difficult situation.
Not only do these centers provide accountability and responsibility, they establish a community of women that trust, respect, and constantly look for ways to help one another. The same concept of a center or tribe is already being applied in the lives of so many mothers and women around me (book clubs, group texts, Facebook Groups, social meet-ups), and I've noticed that those in the groups know they aren't alone and that they have a community that provides encouragement, listening ears, and unity. (If you haven't checked out the Learning Circles at Power of Families, one of those could be a great option for you!)

2. Deliberate Mothers Strive to Educate their Children Despite Difficult Circumstances
One experience of Loke's that really stood out to me was when she saw close to 20 mothers carrying their babies to a business training. Many mothers working with Mentors International have their children sit alongside them and have crucial conversations together, not only about business, but about the opportunities that are just ahead. As these (often single) mothers receive a small loan and mentoring, they are able to start simple businesses that provide financial security and educational opportunities for the next generation. The sacrifice, hard work, and effort by mothers around the world enable their children to go to school and take charge of their future.
Loke told us about one of the first loan recipients who became an example to those around her and a leader in her center. When the woman first came to the organization, she had a large cut in her foot and was really struggling. She was able to start a business making doughnuts with the help of Mentors International, eventually growing and hiring employees. Her daughter was by her side through the whole process and saw her mother working hard every single day. The daughter was later able to take on her mother's business and it has continued to be successful. (How incredible is that?)

I have learned so many work-related skills from my mom as well, and I wouldn't be where I am today (creating online programs, pursuing work in business, and supporting non-profits) if she didn't let me sit by her side to watch and learn from what she was doing on her websites and with her own projects.

While I am not yet a mother and may not fully understand all that the role requires, I definitely see too many mothers feeling down because they don't feel like they are doing enough to teach their children. When I was growing up, my parents were just starting to build their business, and we had a very modest budget. Some of my very favorite teaching moments came from our Perry Preschool (something my mom would do with us before I started kindergarten), and I can remember the exact moment she sparked a desire to learn more about geography, science, and art. She probably didn't think much of the dry erase maps or simple science experiments at the moment, but I learned so much from our creative activities. Your children don't need fancy, expensive, or time-consuming educational experiences—they just want to be with you and soak up all you have to offer.
3. Deliberate Mothers Exhibit Extraordinary Strength
In our interview, my mom and I asked Loke about characteristics that determine whether or not a mother will be successful in getting her family out of poverty and making a real, lasting change in their lives. Loke narrowed it down to strength, determination, and a drive/want to provide for themselves and become self-reliant.
We all know someone in our lives who is struggling with something difficult—really difficult—and maybe that person is you. As I have read success story after success story, I have come to realize that every single individual was inspired by other women and made the decision to rise from their current—often incredibly difficult—circumstances. While the cycle of poverty is often the norm, these women have made the choice to be strong.

What Can WE Do?

One of the things I love most about Mentors International is that they do not step in to do everything for the mothers. Instead, they offer resources that empower mothers to become self-reliant and realize that they are capable of breaking free from the cycle of poverty.

As we look around at the women and mothers in our communities, whether they are struggling financially or with other issues, I hope we can find ways to offer hand-ups instead of handouts. It makes an impact when we show genuine care and concern for those who are struggling and invite them into our "centers" where they can learn new skills and receive support. And it's not just for the mothers. It radiates powerfully into their families.

As we closed our interview, Loke reiterated that at the end of the day, our number of followers on social media, graying hair, concerns about whether or not we are fashionable, and so many other worries simply do not matter or define us as individuals—and especially as moms. Each of us has the opportunity to be stewards over the resources that we've received, and as we work together, we literally change the world.

QUESTION: What other things have you noticed that deliberate mothers do to improve their families?

CHALLENGE: Consider a way you could create a stronger "center" of motherhood support, educate your children (in spite of hardships), or exhibit extraordinary strength when life feels overwhelming.

If you'd like to learn more about or donate to Mentors International, we'd love to have you visit this link and check out the incredible work they are doing!
Link to the donate page: https://mentorsinternational.org/donate/
Edited by Anna Jenkins.
Images provided by the author.