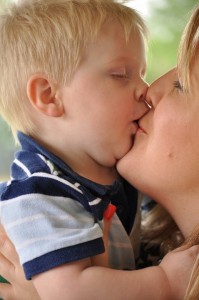 Remember what a great mom you were when you were pregnant with your first child? Life B.C. (Before Children) was full of hope and promise. You fully intended to be either the mom you always wished you had, or just like your own nurturing, capable and organized mother.
Your children would be healthy, smart, creative, polite, self-motivated and responsible – because that's how you would raise them. You and your husband would work together to provide well for your children in every way. Peace and happiness would grace the walls of your home. And – of course – you would be thin and toned with a tastefully decorated, immaculately clean and organized home! Think Brady Bunch meets Little House on the Prairie.
Then your baby was born and real life began, bringing with it the inevitable struggles of life no mother escapes. From post-partum depression to rebellious teenagers, few mothers are left unscathed by the time their last child leaves home. No mother plans to be single, have sick or disabled children or endure financial troubles, and, yet, this is the stuff of life.
At the very least, mothers have a hard time dealing with their perfectly imperfect flaws, the independent wills and personalities of their children, and the day-to-day realities of motherhood. Mothers are pros at expecting too much and celebrating too little – and that's what we hope to change.
During the month of January, we'll be discussing The Power of Acceptance: accepting ourselves, our family members, our life situations and having realistic expectations. Here are a few examples of the refreshing and encouraging material we'll bring to you in just a few short weeks:

"We can't all be Type A mothers. We all bring different gifts to the altar of motherhood. What matters is our children, not our egos, and it doesn't do our children any good to compare our weaknesses against someone else's strength. Anna Quindlen said it best: 'The thing that is really hard, and really amazing, is giving up on being perfect and beginning the work of becoming yourself.'" Allyson Reynolds



 

"It's not like I had never come home to a dirty house before. It happens a lot. That is my reality. I am a working mom, not superwoman. But on this particular day, I couldn't take my reality anymore. Why couldn't things be the way I expected them to be in my head? It should be something like this: I come home from work to happy children (like everyone else's seem to be), a clean home (like everyone else's seems to be), and no laundry (because I should be able to at least get that done – it's not like laundry is hard!), and so went my negative thinking. I had all kinds of crazy expectations that my life was just NOT living up to. I felt miserable and frustrated. … Looking back, my behavior seems a bit silly, but that day I also learned something. I learned that discontent and frustration with our lives happens when there is a gap between our expectations and our reality. Think about it. We have a picture in our minds of exactly the way we feel things should be, yet when life doesn't produce that for us, we feel cheated." Mindy Thurston



"No matter where we live, we can create the feeling of home; women are masterful at this. I've recently been reminded – it's not about the height of the ceilings, the hardwoods in the dining room, or the antiqued kitchen cabinets with chocolate glaze (which, of course, I am still holding out for). It's about filling our homes with all that is good, and true and tender. New England poet, Sarah J. Hale (1788-1879) wrote, 'Nor need we power or splendor, wide hall or lordly dome; the good, the true, the tender, these form the wealth of home.'" Catherine Averseth

 
So get ready to bring in the new year with some great insights from The Power of Moms writers, and learn to love your crazy, imperfect life as a mom along the way!
CHALLENGE: Identify one or two of your most unrealistic expectations, banish them, and feel instantly lighter!
QUESTION: If your life as a mom is not how you thought it would be, how do you deal with it?