Have you ever wanted to help your children really appreciate a special outing?
We live about 40 minutes away from the Disney parks in Anaheim, and when I take my children on a magical Disney adventure, I want them to focus on what a privilege it is to be there.
I know it's natural for children (and sometimes adults!) to complain a bit when the weather is hot, the lines are long, or they don't get the teacup color of their choice, but whether we're going to amusement parks, movies, restaurants, birthday parties, or other fun places, we want our family experiences to make us into better people, right?
Here is a simple, fun, meaningful way to help our children more fully appreciate the enjoyable opportunities provided to them.  (In this post, I talk about Disneyland, but you could easily adapt the ideas here for many situations!)
* * *
I worked at Disneyland when I was 18, and because I know how much effort goes into making it run so well, I wanted to direct my children's focus toward the excellent guest service provided there.
Instead of dwelling on which rides were down for maintenance or who was bothering whom, it seemed much more enjoyable to focus on gratitude.
I started out with these simple cards that my children colored and signed.  Each one said, "You make Disneyland the Happiest Place on Earth."
Later, we moved on to "Version Two":
Now we have "Version Three," which has more space for personal notes. You can print some out for yourself, if you'd like.  (See details at the bottom of the page.)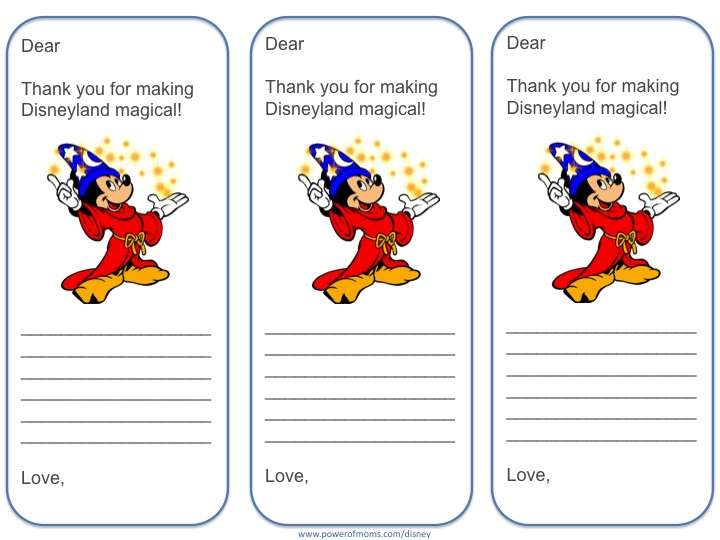 To get this started, I simply sat down with my children before we left to Disneyland one morning and explained that the people who work there do their very best to make the day wonderful for everyone who visits.  If we paid close attention to the great service they were providing and gave these cards to those who did their jobs well, we could really make them happy.
Once my children heard the plan, they couldn't wait to get started.
Alia wanted to give one to the man at the parking garage as soon as we got there, so while he scanned my pass, she wrote his name on a thank you note and quickly handed her card out the window.
A big smile spread over his face, and he said, "Thank you so much!"
Then we gave one to the parking lot tram attendant.  The reaction was the same.
When we got to the bag checker, Alia said, "Mom, they stand here and check bags all day, and I don't know if anyone ever thanks them."  So she wrote up a nice little message and handed it to the woman who had checked our bags.  She started to tear up and said that was the nicest thing anyone had ever done for her at work.
Now my children were on a roll.
Every time we've gone to Disneyland since then, we've printed some Disneyland Thank You Notes and put them into my purse, along with a couple of ball-point pens.  We give them to custodians, ride attendants, characters, store clerks, performers . . . anyone who is doing a fantastic job and could possibly use a little more praise. My children take turns handing them out, and they get so excited when it's their turn to present a thank you note to someone who has made our day.
It's common for me to see my children craning their necks as they try to read the name tags of the kind and helpful people they encounter. Then they hurry to find a flat spot against a wall or on a ledge where they can write a special little note.
A few months ago, we gave a thank you note to the man working the "Crush Turtle Show" in California Adventure. He looked at the card and said, "You're the Perry family?" (as though he knew us).  He then went on to say, "We've had one of these cards of yours hanging in the back room for over a year.  I always wondered who you were."
Well that was nice.
The results of this "thank you note" experiment have been so wonderful that we decided it was time to share this idea so more people would be able to feel what we've been able to feel. Our only concern was that this would start to become too common, so we decided it would be a good idea to add a really nice personal note to each one.
Here are some examples:
Dear Bryan, the Pirate,
You did such a great job welcoming us to Pirates of the Caribbean.  Thanks for being so enthusiastic and posing for that "pirate picture" with us.  It was really fun to meet you.
Dear Angelica,
You have such a warm, kind smile. Thanks for asking us about our day!
We also gave one to the man working the Dumbo ride.  He'd given each of us a "magic feather" to hold, and then as he came around to collect them, he gave everyone "high fives."  His enthusiasm was totally contagious.
We wrote,
Dear John,
Thanks for the high 5s!  Dumbo was the best.  Thank you for making it fun!
Later that night, my children were the only ones in the Redwood play area at California Adventure.  Two cast members, Lloyd and Dora, let them go on the tire swing ziplines over and over and over again–without once seeming annoyed or tired.
Dear Lloyd and Dora,
Our children had a great time on the tire swing zipline.  Thanks for helping them have a fun, safe time. You are so kind!

Do you think cast members will ever get tired of hearing things like this?  Neither do I.
If you want to show your children how this works, here's a one-minute video of Alia explaining our thank you note process:
And if you're planning a trip to Disneyland and would like to print out your own copy of these thank you notes, they're part of a complimentary Disney Guide just launched by The Power of Moms.
We've also included:
a wonderful, downloadable eBook called "A Deliberate Mother's Guide to Disneyland"
an online, expandable version of that eBook, complete with dozens of videos, photos, and print-outs
a planning template to help you prepare for your own Disney adventure (if you'd like to go sometime), and
an additional Disney resource page, where we'll add lots of other great links (you can link up your own blog posts and ideas there)
Most of the ideas in this kit will work for any of the Disney theme parks and many will work well for other amusement parks.
If you don't have current plans to go to Disneyland, you could simply create your own thank you cards for the people in your community who provide excellent service–either at recreational locations or everyday spots (like the grocery store or the school).  The world is full of people who'd love to feel more appreciated!
The general idea is that if we, as deliberate mothers, teach our children to look for and recognize quality service, they will become more and more grateful over time.  And if those who are providing quality service feel consistently appreciated for the good they're doing, they'll do more of it.
That sounds like a pretty simple way to have a positive impact on the world, don't you think?
QUESTION: Do you have any other methods that have helped you teach your children gratitude?
CHALLENGE: Whether you are taking your children to Disneyland or another fun place, take thank you cards along and teach your children the value of gratitude!