Have you heard about S.M.A.R.T. Goals?
This idea has been gaining momentum over the past several years, and today we're going back into our Power of Moms Radio archives to bring you one of the very first episodes with April and Saren.
Using SMART as a simple acronym, we're going to have a fun discussion about goal-setting that will help us all get thinking about what we want for this coming year:
S = SPECIFIC–Pick a goal that is something you can "pin down."
M = MEASURABLE–You've got to have a way to measure your progress or you will never feel like you've accomplished anything.
A = ACHIEVABLE–This means we need to be realistic. (No more multi-tasking until we fall over from exhaustion…)
R = RELEVANT–Make sure that this is the right kind of goal for you to be setting at this point in your life.
T = TIME-BOUND–Give yourself a deadline–at least a point in time when this goal will be "done."
Join Saren and April as they talk about ways to make S.M.A.R.T. goals happen in your own lives.
Show Notes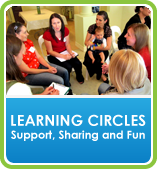 Learning Circles – Do you want to gather each month with like-minded mothers for a fun girls' night out…with a meaningful purpose? Learn more here!
Complimentary Live Webinar – If you're excited about moving toward your goals and want additional ideas to help make the projects on your plate feel easy, join us for a live webinar at Power of Moms: "How to Make HUGE Projects Feel Easy."
Do YOU Want to Get in Shape? – As a little side note…one of my (April's) goals in this podcast was to get into better shape by "eating healthy, being in control of my portions, and going to the gym every morning for two weeks."  Although I did meet that goal (over and over again), it was never very effective, and now my life has changed because I "went SANE." Want to know more? Visit powerofmoms.com/sane.  (You'll love it!)
This episode is sponsored by:
Click the image on the left to learn more about this great program that helps children learn about and more fully value the earth through fun activities and games.
Get one month free when you sign up for a 3, 6, or 12 month subscription and use coupon code "POWEROFMOMS."
Music from Creations by Michael R. Hicks
Audio Editing by Christy Elder
Image by angietorres / Flickr.com