Do you ever feel like there are too many choices regarding how to spend your time?
Would you like some practical ideas and inspiration to help you live a life that emphasizes the things that matter most in your life?
Join Saren Eyre Loosli, April Perry, Allyson Reynolds, and Kelly King Anderson in a fun Learning Circle-type discussion about how we devote our best energies to our top priorities (or, at least, how we're really trying).
BEING there for this conversation was magic, and we're so excited to share it with you.
Show Notes: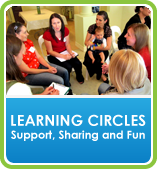 Want to create your OWN moms' group to discuss principles of deliberate motherhood?
Check out our Learning Circles!
Music from Creations by Michael R. Hicks.
Audio Editing by Christy Elder