My senior year of high school, I was preparing for college and applying for a variety of scholarship opportunities.
There was one specific scholarship I really hoped to get, but of course I procrastinated writing my essays and didn't have them ready until the day before the deadline.
"Oh mom," I said, "let's just not send this in.  My chance of getting this scholarship is so slim, and my essays aren't that great, and I waited too long."
But she wouldn't hear of it.  She loved my writing and said, "I must send these in."  And then she ran to the post office right before it closed, paid the overnight mailing fee, and called the scholarship office to make sure they knew my application was on its way.
A few weeks later, I was at an after-school rehearsal for our spring musical, and there was a soft, rapid knock at the choir room door.
It was my mom.
I slipped outside into the cool air in the middle of a chorus number, joined my mom at the top of the metal staircase where she was standing, and said, "Mom, what are you doing here?"
She was jumping up and down, clasping a large white envelope in her arms.
"April, it came!  It came!"
I looked at the return address and saw it was the response to my scholarship application, but not wanting to get excited over nothing, I said, "I'm sure it's just a letter telling me I didn't get it.  You didn't have to come all the way down here."
She acted like she hadn't even heard me and simply thrust the envelope into my hands and watched with a huge smile on her face as I opened it.
Well, I did get that particular scholarship, and of course it was an exciting moment.
But as I stood there by the choir room door, listening to the muffled sounds of the rehearsal going on inside and hugging my mom as she wiped the tears from her eyes, the main thought going through my mind wasn't about the scholarship.
Instead I was thinking, "My mom really believes in me."
Now that I'm the mom, I can more fully appreciate how much it means to have someone throw all their support behind you.  And that's the kind of mom I want to be.
But, like you, I often feel like I'm spread too thin.  My heart wants to do more than my hands can manage, and I often think back on my mom's example and ask myself, "How on earth did she do it?"
But then I look a little deeper, and I can see how my small efforts–just like your small efforts–start to add up.
Last year, my girls wanted to make special Valentines that made it look like they were holding the lollipops we stuck through each card.
And when they saw how fun and successful our dear friends' Summer Camp was, they begged to organize one, as well.
Grace pretends she's embarrassed when I cheer the loudest at her basketball games and give her "air high fives," but I know she really likes it.  And Ethan gets this cute smile on his face when I wear his photo button on my shirt.
Just the other day, Spencer was ooh-ing and ahh-ing over the car ads in the newspaper, so I helped him make a car dealership out of a cereal box and showed him how he could line up his Hot Wheels and put little price tags on them.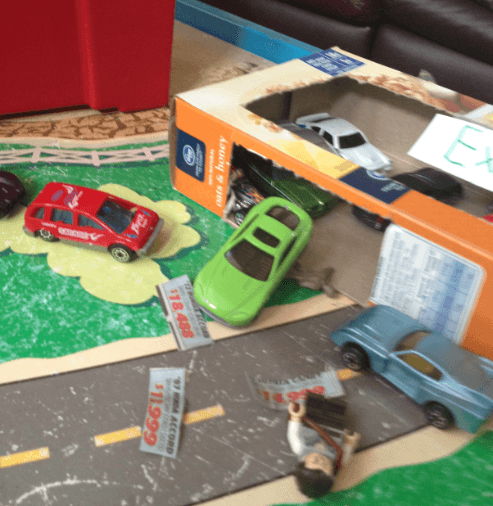 He lit up.
These are just a few examples from my life, but I see these kinds of things in your lives all the time.
I watch moms deliver Girl Scout cookies for three hours on a Wednesday afternoon, max out the limit on the library card, and stay up until midnight gluing charts and graphs onto science project boards.
I see moms of children with special needs spend long hours (and sometimes days) in hospital rooms, doctors' offices, and therapy visits.
I sit in the back row during choir concerts and awards ceremonies and count hundreds of cameras flashing and recording every detail.
And I read Facebook updates where friends of mine share little bits of their hearts and tell us about the family moments they never want to forget.
Living in this world of moms (and dads!) who cherish their children is very, very sweet.
Every once in awhile, however, we need a reminder that what we're doing is important.  I know motherhood isn't easy.  Mothers around the globe often feel overwhelmed, exhausted, and inadequate for the job.  They are carrying heavy burdens and most often do not receive thanks, credit, or acknowledgment for all that they sacrifice.
Sometimes it feels like we're just running in circles, but when we stop and look at our lives clearly, we can see that this business of motherhood is more than it appears to be.
Each day that we get out of bed and move our families forward, we're essentially saying to our children, "I believe in you."
And that is a powerful gift.  It is beautiful.  It is the selfless giving of one's heart that is simply not visible enough in society today.
My heart is tied to my mother.  I would do anything for her.  I want to live well because it is how I show her that all that love and sacrifice mattered to me.
We, as deliberate mothers, have the honor of giving the very best of ourselves to the ones who matter the most.
It's certainly wonderful to have people who believe in us, but I think it's even more fulfilling to become the kind of person who truly believes in someone else.
That's why I love being a mom.
QUESTION: How have you seen a mother demonstrate how she believes in her child?
CHALLENGE: Take a moment to consider your children's goals, needs, or dreams.  What's one thing you could do to show your love and support?