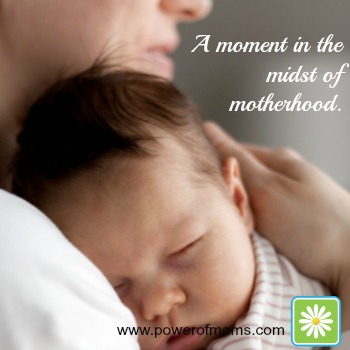 This article was originally posted on November 4, 2014.  
I was really struggling when my twins were a couple months old. I hadn't slept well in months, at least one baby was either nursing or crying around the clock, and my two-year-old was having a hard time adjusting to her new role as big sister. Then my mother mentioned how she felt so much bliss after her last child was born. Bliss!
That was about the last thing I wanted to hear. I was supposed to feel blissful? I had just purchased the twins christening gowns from Bundles Of Joy and the christening was in a few days! What was wrong with me?
 Many of us moms feel this way when we're told to enjoy every moment. We feel like we're failing. We love our kids and want to enjoy them, but we get tired and grumpy. Sometimes we just need a break. And then we feel guilty…like we're doing something wrong.
 I remember going to the library to pick up some books for Kate, who along with two other kids, was home with the flu. While the librarian scanned my books, I mentioned that my kids were sick. She said, "I remember those days of the stomach flu. You will get through it."
 I appreciated the encouragement, until she continued, "And, kids really do grow up so fast. Cherish these moments." I jokingly replied, "Well, I'm not cherishing the flu." But she insisted, "Yes, even cherish the time with the flu."
 I had no idea what to say to that. I finally muttered something about cherishing the moments they weren't throwing up, gathered Kate's books, and left.
 It wasn't until a week later that what that librarian said–what all these people had said –made sense. I was sitting on a chair holding Ally at bedtime as she moaned about her stomach hurting. Luke was running around naked waiting for me to put on his pajamas. Anna was yelling for me to brush her teeth, and Kate was reading a book to the new puppy (who desperately needed to go outside). I looked down at my sweet toddler, at her fever-flushed cheeks and rosy lips, at her chubby arm across my chest. I kissed the soft curls that lay against my chin, and I realized that somehow, despite the mess, despite everything that needed to get done, I was enjoying that moment.
 And it came to me almost like an epiphany. This is what they are saying!
 I suddenly realized these women who'd been here in the midst of motherhood before me were telling me to enjoy moments, moments just like this one. They weren't telling me to enjoy every minute. Nobody enjoys every minute of anything. What we live for are the moments within the minutes.
 As I sat on the chair, holding my daughter close, I realized these moments we find in life usually aren't moments we create. It occurred to me that I've spent seven years of motherhood trying to create the moments to enjoy. I would quickly try to clean the kitchen, start a load of laundry, and have the kids tidy up the toys so I could read books to them and have one of those perfect moments. But by the time the kitchen was clean, the laundry was started, and the toys picked up, the kids were often too tired and crabby to enjoy the time I'd planned to have with them. A moment was likely waiting for me if I'd just gotten down in the mess of toys and played with them.
 What I realized that day was the moments are already there. We don't need to create them; we just need to take them in. A baby fresh from the bath. A pair of chubby little hands hugging our necks. A preschooler dancing to music she sings herself. The look on an older child's face when he first understands a tough math problem.
 So, while I'm living life with my kids, I'm trying to take time to breathe in the moments. I now think to myself, "This is a moment and I'm so grateful for it." And when things aren't going well, it's simply, "This is just a minute (or a collection of minutes) that I'll forget."
 Maybe the women telling us younger mothers to enjoy the moments have forgotten the rough times of motherhood, but it doesn't matter. Those were just the minutes, and we will forget them, too. Their advice is a reminder that we're surrounded by moments, that these are the moments.
QUESTION: What moments have you enjoyed with your children this week?
 CHALLENGE: On a particularly difficult day, take time to reflect on the enjoyable moments within the minutes.
Edited by Sarah Monson.
Image from papaija2008/FreeDigitalPhotos.  Graphics by Anna Jenkins.