I have five young kids who have five sets of needs that often seem mutually exclusive. I co-direct this website. My husband is working hard on tons of his own projects. We're both involved in parenting and church and community obligations and trying to make ends meet financially.
Given all this, should I expect my life to be generally calm and serene? Should I expect my house to be neat and tidy? Should I expect to be on time to everything? Or should I just go ahead and accept that my life is generally going to involve a fair amount of hurrying, juggling, and messes mixed with laughing, learning and working hard?
Certainly, I can and should work towards peace and happiness in my life and in my home. But I've found that when I accept that life is often hard and keep my unrealistic expectations in check, that peace and happiness I want actually happens more often.
As moms, if we go into each day thinking, "This is going to be a wonderful day – I'm going to get all this stuff done and have magical moments with my children all day long," we're bound to be disappointed somewhere along the way. While it's great to be positive, it's also great to be realistic!
I used to psych myself up about taking my three preschoolers to the grocery store – "This is going to be fun! I'll let each child pick a fruit or vegetable. We'll talk about all the colors and letters we see. It'll be great!" Inevitably, I'd end up SO disappointed. My plans for fun and learning in the grocery store would fade away while my baby cried inconsolably (I did just feed her before we left home!), my toddler threw tantrums (I tried to get him interested in the colors!) and my 4-year-old got on the side of the cart and just about tipped it over.
When this would happen, not only did I feel frustrated about the way my children were behaving, but to add insult to injury, I felt so sad that my great expectations had been dashed. I felt like a failure as a mom because I hadn't been able to bring my visions and plans to fruition.
After a while, I wised up. learned to keep my expectations LOW when taking my kids to the grocery store (and to avoid taking them whenever possible!). I learned to head into the store with this attitude: "Even though I've gone over the grocery store rules with my kids, there will probably be hard times in this store. There may well be a tantrum. There will probably be some whining. I may not get to everything on my list but that's OK. If things get bad, we'll just leave. This probably won't be super fun but it'll be OK."
When I kept my expectations low, I found that I was often pleasantly surprised with the outcome and was better able to handle the hard stuff when it happened. "Yep, here it comes – I thought this might happen but I've done this before and I'll do it again and it'll be fine."
I used to really care about having my home look lovely all the time. My old house was beautiful. It was clutter-free.  It was clean.  Everything was designed and decorated with great care. Each paint color, each piece of furnishing was chosen with great deliberation (and stress) by me. But what was I thinking trying to raise five little kids in an immaculate house?  It was really all about control.  I felt like maybe I couldn't control the diaper explosions or the bickering of my kids and I couldn't control the flailing economy or my husband's worrisome work prospects, but I could control that house.  I could make it be clean and beautiful.  And I'm sure that little element of control did help me sometimes.  But overall, I learned that keeping a house quite constantly beautiful when kids live in it is an exercise in futility and I needed to seriously re-vamp my expectations.
When we moved into a different house a couple years ago, it was the perfect chance to change my expectations. My new housecleaning philosophy is one I got from my Power of Moms partner April: "clean enough to be healthy, messy enough to be happy." There's some clutter here and there. We could probably vacuum and dust a little more. Window washing doesn't get to the top of the "to-do" list often. There are furnishings that could be replaced. But you know what? This house is a home. We live here and living is often just plain messy.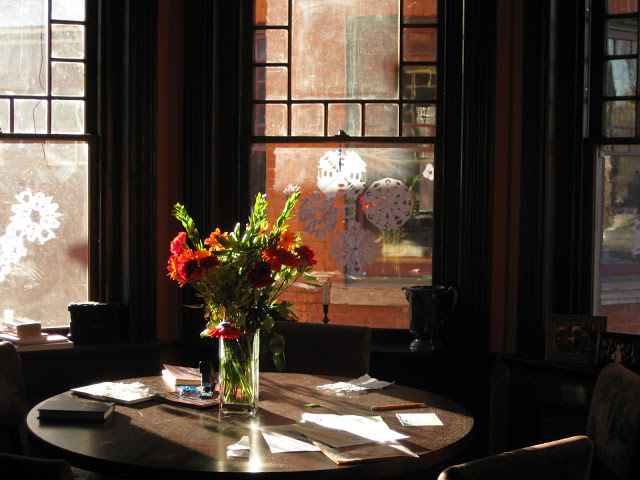 I'm not saying we should just throw up our hands and let everything go. We need to be deliberate about what we hold onto and what we let slide and realize that what we decide to let slide will likely be different from what some other moms choose to let slide. We need to "plan for the best but prepare for the worst." Every Sunday, my husband and I sit down and look at what's coming up that week and plan for how we'll handle tight times in the schedule and discuss issues in our family that need thought and action. Living life with goals and plans is important. But making those goals and plans realistic is vital.
As I sit here working on my long to-do list in my somewhat dusty house with remains of the craft project my son had to do for homework last night scattered across the table next to me, I can feel a lot of peace when I think "Yep, this is pretty much what I expected for today and it's totally fine." As I think about tonight when I've got a meeting at the same time that one child needs to babysit for another family and another child needs to be at scouts, I remember that we planned this out and it'll be tight and we'll have to be late for one thing but everything will be OK.
I don't expect life to be perfect. I expect it to be hard and messy and exciting and wonderful in its own imperfect way.

QUESTION: What expectations have you adjusted in your life?
CHALLENGE: Pick one expectation you should adjust and make that change.