About a year and a half ago I invested the time and effort into setting up my "Mind Organization for Moms" system.
I love it.  It's a part of me now.  It's how I function and how I think.
Do you ever find yourself using phrases with friends like "I'll put it on my Next Action List".  Or, "It's not a big deal, just throw it in your Read and Review and let me know what you think when you get to it."
The language we use in M.O.M. is how my life flows and how my brain processes information now.
It's been a while since I started though, and I'm realizing that my system needs a periodic spring cleaning.
Recently I decided to clean out my current project cubbies and it has breathed new life and excitement into many of the current projects that were beginning to see cobwebs.  I've decided to add a bi-annual "Cubby Clean Up" to my Responsibilities and Routines chart.
If your cubbies could use a little spruce up, follow me for a few tips and a little motivation.  Of course we'll be doing this M.O.M. style!
Here's my set up.  My current project cubbies hide nicely behind our open computer desk door (which is rarely closed).  It's easy to forget how messy they are . . . but up close you can see they need a little attention!
Add "Cubby Clean Up" to your Current Project for You list.
Identify what steps you need to do on your Immediate Next Action list.  I wanted to get mine done in one week so I added several items to my digital list "@Around the house".
3.      Gather Supplies (this may involve an errand if you're running low on file folders or want to spruce up your labels, so add that to your Next Actions Errands list if necessary)
-Empty file folders
-Scissors (for cutting the tabs off the folders)
-Marker
-Trash
-Pencil and paper with a sketch of the cubbies so I could make notes as I figured out which categories needed to stay, go or combine.
-Labels (optional): I just discovered a "Post-It" brand label that works perfectly for file folders that change periodically.  They have the regular post-it note stickiness all over the back of the label so they stick on well, but they can easily be peeled off when you are done with that particular project.  Perfect!  (I found mine at a local office supply store)
4.      Sort contents.  Make more sub-folders.
I took everything out of each cubby (one at a time).  I threw away and filed stacks of papers that were no longer "current" projects.  As I worked through the various categories, I started to see that if I used sub-folders more efficiently I could condense my cubby set up (and keep them orderly for longer!).
I also organized my coupons.
Before:
And after:
5.      Evaluate Cubby Categories
When you first set up your system it takes a little bit of guess-work to figure out which categories you will use for your cubbies.  I had done the guess work, but never went back to finalize what I was really using.  Over time, I had also added a huge tower of additional cubbies as I discovered more categories.  Now that I was using sub categories in each cubby I didn't need as many cubbies.  I was ready to knock down that stack and streamline my categories!
I just sketched my old cubbies on a piece of paper.  As I sorted things I was able to figure out which cubbies I really needed.  I sketched that out on the paper then followed it to put things back in the right place.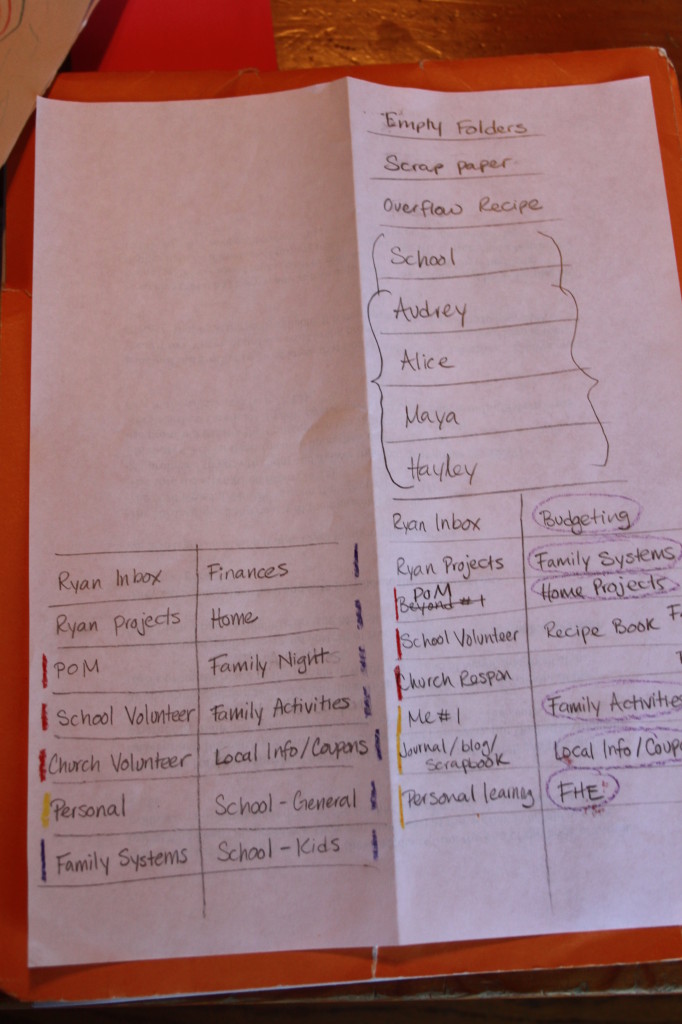 6.      Keep your Current Project lists and Immediate Next Action list handy.  As you sort you may find things that need to be added.
7.      Re-Label Your Cubbies.  
I'm a big believer in labels around the house.  They help me and my family stay organized.  Things just end up in the right place more often when there's a label.  (This is the fun part of the job for me!)  After I finished shuffling things around and making sure everything had a folder I finalized the list of new cubbies.  I typed up some simple labels in a Word document.  I decided to print on colored paper that corresponded to the ME, FAMILY, and BEYOND categories but scribbling on any paper would get the job done!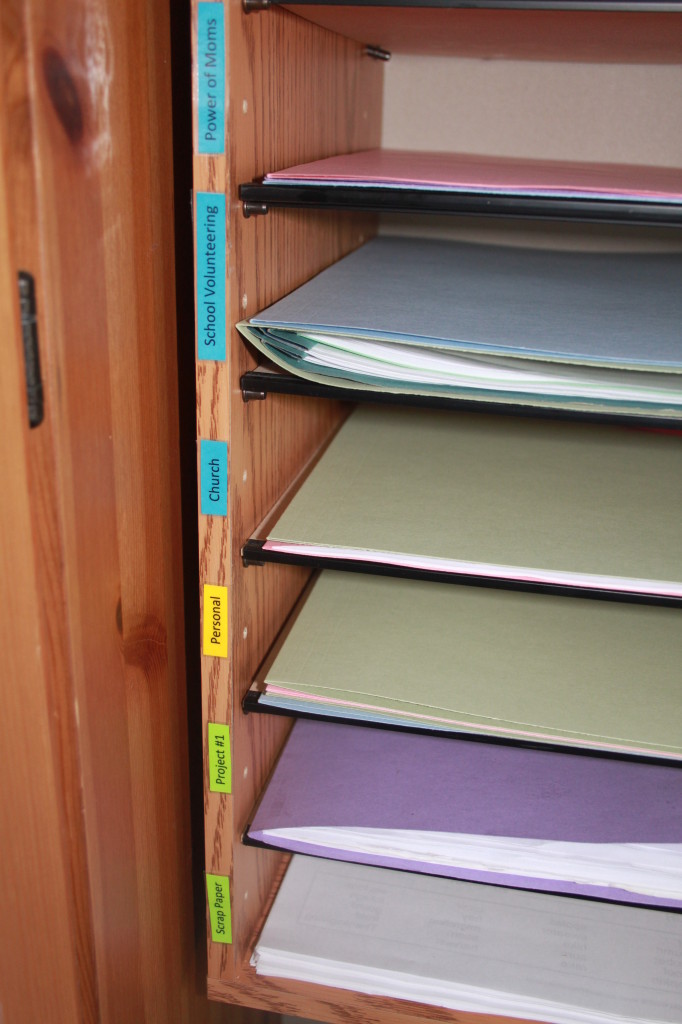 FINISHED!
When the components of my M.O.M. system are in order my brain is at peace.
QUESTION: Do you have any tips you'd like to share about how you create, organize, or use your cubby system?
CHALLENGE:  Find a time in your Routines and Responsibilities schedule to clean out your cubbies and make sure this part of your system is as efficient as possible.  Enjoy how much more powerful you feel in your own life!