Today is the first day of summer for my family. School is out, the weather is great, and we are excited…so why did I end up in such a grumpy mood this morning?
Maybe it was because I stayed in bed too long, and by the time I got up, my two-year-old had dumped garbage all over the living room, my older children were itching to run around outside, and we no longer had the time to take that day trip we'd been planning.
Maybe, it was because I really wanted to exercise and take a shower, but I hadn't anticipated that all of my children would want to whine and complain and sit right next to me while I tried to take on Jillian Michael's 30-Day Shred (loved that workout, by the way…even WITH my little ones all around me).
Or, maybe I was grumpy because I hadn't thought about all the laundry, cleaning, and organizing that needed to be done, and I hadn't shared my summertime goals with my children. They were under the impression that summer was going to be one non-stop party, and I was envisioning a beautiful month of de-junking and hanging out at home. We needed a compromise.
Whatever it was that caused these summertime blues, I was determined to find a solution this morning, and I thought I'd share what we discovered.
(1) I took a few minutes to study creative summer plans my friends Suzanne and Saren have shared with me. They are both incredible, and though I didn't implement all of their great ideas, they inspired me to come up with a plan that would really work for my family. Suzanne is one of those mothers who makes the most of every summer month. She schedules a weekly park day, a weekly swim day, a weekly field trip day, a monthly date night out, and a monthly Girls' Night Out, and then she types up the whole thing and gives copies to all her friends so they can easily join in the fun. Clever, right? Click here to view Suzanne's summer schedule. And Saren has developed a great summer camp program here.
(2) We created a "Summer Bucket List." I've never done this before, but I remembered that Allyson Reynolds put one together last year that looked like SO much fun, and I figured we could do the same thing! I always get to the end of the summer and think, "How did the time pass so quickly? I never even got together with so and so or made it to that museum we've been dying to see." Not this summer…. My children and I gathered around the whiteboard in the kitchen this morning and wrote out all the things we'd like to do. Which friends do we want to invite over for play dates? Which restaurants do we want to visit? Which parks? Which museums? Which stores? We've now got a great idea list to work from each day, and we are all incredibly excited.
(3) We put together a "Summer Family Routine List," which includes all the things we need to be doing on a consistent basis–reading, tidying the house, wondering, practicing the piano, helping people who are sick, etc. Now when my children wake up in the morning or come to me saying, "I'm bored," I have a whole list of things ready for them to review for ideas.
(4) We established a theme for each day of the week. Monday is "Laundry and Library Day," Tuesday is "Field Trip Day," Wednesday is "Friend Day," Thursday is "Sports Day," and Friday is "Beach Day." Of course this will be flexible, but having some sort of a system set up helps us to make sure we're incorporating a variety of activities into our summer.
(5) We set up a quiet time schedule. My two-year-old takes a two-hour nap every day, and that's when I either nap, work on this website, or do my desk work and phone calls. I don't want my older children watching TV for the whole two hours, so we set up a little rotation (they drew numbers out of a hat to decide where to start).
Rotation #1 = 30 minutes playing computer games
Rotation #2 = 30 minutes playing with toys quietly or playing in the backyard
Rotation #3 = 30 minutes reading or writing stories
Final 30 minutes = a television show that everyone agrees upon
They're entering their final 30 minutes right now, so I will finish this up, but I wanted to record this because it's made a huge difference for me. Now that we have some sort of a plan in place, I'm not grumpy. In fact, I'm feeling just as excited about the summer as my children.
QUESTION: What do you do to create some sort of order in your summer routine?
CHALLENGE: Hold a mini-family council and plan your Summer Bucket List, your Family Routine, and/or a theme for each day of the week. Or, if you like things to be more unstructured, have a conversation with your children where you can align your summertime expectations.
Looking for more ideas to get your life organized?
Come join me in a free class to help you finally stop drowning in piles. 🙂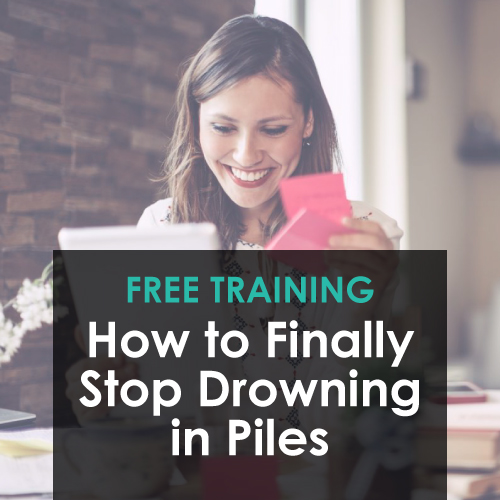 Originally posted on June 10, 2016.