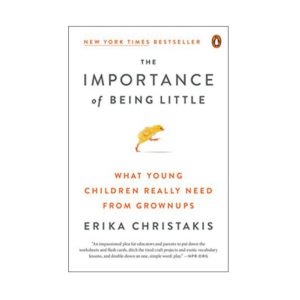 Title: The Importance of Being Little: What Young Children Really Need from Grownups
Author:​ ​​Erika Christakis
Basic​ ​Overview:  
In The Importance of Being Little, Erika Christakis discusses how young children truly learn—specifically, their rich potential for learning and exploring in any environment. She also describes the current methods typically used in preschools and kindergartens and convincingly shows that these methods are falling short of what we truly want for our small children.
As preschools and kindergartens focus more and more on skills and readiness checklists, on worksheets and pre-determined crafts, our young children are missing some of the magic of early childhood. Erika Christakis argues that rather than working to try to teach toddlers to meet specific outcomes, we should rather promote deep connections between children and adults. With those connections in place, our earliest learners could grow in an environment that allows for flexibility and exploration for each child to learn at their own pace.
Parts​ ​I​ ​liked​ ​best:
As the mother of three small children I was fascinated by the information presented in this book. And I found myself agreeing with the author's position: while there is value in many of the activities commonly used in preschools and kindergartens, young children could potentially be better served by allowing them to explore, play, and communicate with each other and with caring adults. As she explains, "the most essential engine of child development is not gadgetry or testing, but deep human connection. We can strengthen those bonds wherever we find children" (299).
This book dives deeply into the subject of how children learn and what their ideal learning environment would be. Christakis discusses classroom environments, learning through play, how to listen to a child and observe a child to best support their learning, and the role that we, as adults, play in helping children to learn. It was incredibly interesting and sobering to me to see the contrast she described between an ideal learning environment and the activities commonly found in many early childhood classrooms.
Not only does she relate this discussion to how an ideal classroom would be for a preschooler or a kindergartener, but she also describes the activities and learning that can take place at home. As she states, "the reality is that families will always matter most, and strengthening families and the locations where we find them, as much as preschools themselves, may be where we see the greatest impact" (279).
She encourages parents to involve their children in the learning that comes through family activities like cooking, shopping, or playing together at home. It was empowering to me that someone with her education, teaching experience, and depth of knowledge through careful research would affirm that my role as a parent has the potential to be the most powerful in the lives of my children.
How​ ​this​ ​book​ ​made​ ​an​ ​impact​ ​in​ ​my​ ​life,​ ​especially​ ​as​ ​a​ ​mother:
One of my children is almost four years old, and I read this book just as I began to search for a preschool for him. Reading this book encouraged me to look for different things in a preschool than I may have otherwise considered.
Instead, I looked for a place where much more time was spent in play. And I watched the teachers' interactions with their small students more closely. I became less interested in what crafts or letter-based activities they provided and much more interested in the connections that were developed. In that sense, this book was truly transformative for me, and I would encourage other parents of small children to read it for that reason.
But more importantly, this book helped me to grow as a mother. I got inspiration about how to better help and support my children in their learning. I began to view myself now as an enabling supporter in their own explorations rather than a director who needs to create projects or artificial scenarios in order for my kids to learn.
It was empowering to feel that including my children in activities like cooking together, exploring outside, and investigating things that interest them like bugs or the solar system or even super-heroes could be a fantastic way to enrich their learning and growth. Overall, this book helped me to be a better observer, a better listener, and, in short, more deeply connected with my children.
QUESTION:​​ How can you foster an environment of learning and growth in your home?
 CHALLENGE: Include your children in activities that allow for natural growth and learning, like cooking, cleaning, or exploring outside. Focus on listening to your children and deepening your connection with them while you do so.
Power of Moms is an Amazon Affiliate. We only promote books we love, and any purchases through our link will help support Power of Moms. Thanks!
Edited by Aubrey Degn and Sarah Monson.